June 24, 2018
Rex Buchanan
Director Emeritus of the Kansas Geological Survey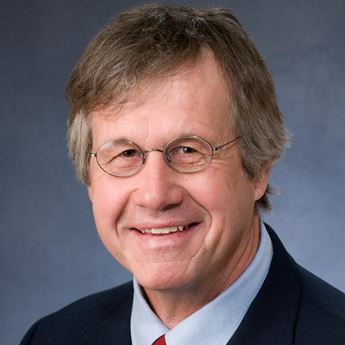 Presentation at 2 pm
Free admission | Refreshments
You are invited to join us for a no-host lunch at El Corral Restaurant in Alma at 12:30 pm.  No reservations required.
The Conversation about Water continues…
Early evidence of Native peoples in Kansas shows that they lived near springs, seeps, and rivers. Later, European settlers moved along water sources, and eventually cities were established in areas with plentiful water supplies. Even today, demographic changes in Kansas are the result of water: scarcity connected to water-level declines in the Ogallala Aquifer is impacting depopulation in western Kansas, whereas some eastern Kansas counties, which are relatively water-rich, are gaining population. Recently the state government developed a 50-year water planning vision, identifying two major issues: reservoir sedimentation and the rapid drawdown of the Ogallala portion of the High Plains Aquifer in western Kansas.
This presentation will highlight how water issues today define much about Kansans in the future, just as they always have.
Rex Buchanan is Director Emeritus of the Kansas Geological Survey (KGS), based at the University of Kansas, and is currently the Director of the Consortium to Study Trends in Seismicity at the KGS.  He grew up near Little River, in Rice County, Kansas, on the edge of the Smoky Hills. He started at the KGS in 1978, and was the Interim Director from 2010 to 2016. He is the co-author of Roadside Kansas: A Guide to its Geology and Landmarks  (rev. edition, 2010) and editor of Kansas Geology: An Introduction to Landscapes, Rocks, Minerals, and Fossils  (rev. edition, 2010), both published by the University Press of Kansas, and co-author of The Canyon Revisited: A Rephotography of the Grand Canyon, 1923-1991, published by the University of Utah Press (1994).  He served as Secretary of the Association of American State Geologists, past chair of the Geology and Public Policy Committee of the Geological Society of America (GSA), and past president of the Kansas Association for Conservation and Environmental Education (KACEE), the Kansas Academy of Science, and the Association of Earth Science Editors.  He chaired the Kansas Task Force on Induced Seismicity from 2013 to 2016.  In 2008 he was named a Fellow of GSA and in 2016 received GSA's Public Service Award.  In 2009 was given the John Strickler award for environmental education from KACEE.  He also provides occasional commentaries on Kansas Public Radio. He has an undergraduate degree from Kansas Wesleyan University and graduate degrees from the University of Wisconsin-Madison.
The Volland Store
24098 Volland Road, eight miles southwest of Alma, Kansas.
Open Saturdays and Sundays 12-5 pm and by appointment 785-499-3616.
SaveSave
SaveSave
SaveSave
SaveSave
SaveSave
SaveSave
SaveSave
SaveSave
SaveSave
SaveSave
SaveSave
SaveSave
SaveSave
SaveSave
SaveSave
SaveSave
SaveSave
SaveSave